Express Sessions – Quick Sessions for Bigger Kiddos
We've taken our "one a month" express session concept and given it wings! You can now schedule an express session ANY TIME! Yep, that's right, our popular mini sessions are now available on YOUR schedule! Not only that (for our previous clients) they are no longer themed sessions either (unless you want them to be).
We've found – in photographing children for over 12 years, that we get the best photos in a short window, while kiddos are fresh! Who feels like smiling when you're on your 6th clothing change, have been bribed with skittles for over an hour, have another wet diaper, and on top of the sugar high you're now starving!!! OK, that might be an extreme example, but trust us…short sessions rock! Twenty minutes gives us plenty of time to get great images before the meltdown! Since the sessions are abbreviated, we stick to one outfit, but will photograph on multiple backgrounds for variety. All sessions take place at our Downtown Denver studio. Express doesn't mean boring!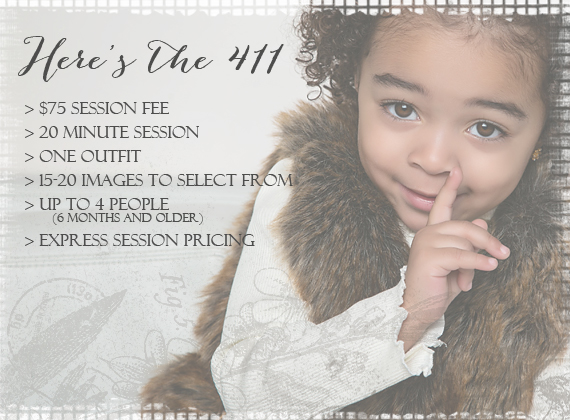 In keeping with the "express" idea, we've designed a set of digital express session collections to make things simple. About a week after your session, we'll invite you back to the studio for a viewing and ordering session and we'll help you decide which collection fits your needs and lifestyle best. Looking for wall art or albums, don't worry, you can always add from our full product selection as well.
Level 1
$265
3 Digital Image Files
Level 2
$375
5 Digital Image Files
Level 3
$500
10 Digital Image Files
Full
$695*
ALL Digital Image Files*
* Digital Images included with Express Session packages are medium resolution printable to an 8×10. Digital image collection is $595 with the purchase of a wall portrait or album.